When you live in a climate that gets all four seasons, changes in the weather aren't always a welcomed or pleasant experience. Not only do they tend to happen earlier than you were expecting, but they leave you scrambling to prepare your home, car, and routines for the new season ahead.
This includes the often-chaotic seasonal clothing switchover.
Every mom knows how quickly clothes accumulate in a family household. Coats, boots, mittens, scarves, hats— it's like these items multiply until your closet is overflowing with clutter!
As a mom of two, I know how tempting it can be to put off switching out seasonal clothes. You're already juggling making meals, helping with homework, and shuttling kids from one activity to the next. Sorting through stacks of clothes? It's not exactly a "break", that's for sure.
But trust me, when you're surprised with the first heavy snowfall of the season, and you're forced to frantically dig through bin after bin to find hats and mittens for your kids before they walk to the bus stop, you'll wish you had gotten a head start.
Now for the good news…
You can rotate your seasonal wardrobe without all the headaches and hassle. (And I'm going to share how!)
But first, let's talk about why seasonal closet organizing is so important.

The Benefits of Organizing Seasonal Clothes
1. Optimized Closet Space
Regularly organizing and switching out seasonal clothes helps keep your living space neat and clutter-free. It ensures only the appropriate season's clothing is readily accessible, so it's easier to find what you need without sifting through a muddled mishmash of accessories and apparel.
2. Less Unnecessary Shopping
Your seasonal clothing switchover is an opportunity to assess what items you have, identify gaps in your wardrobe, and avoid buying duplicates— which, ultimately, saves you money! Most families have more clothes than they realize, but when D35071items are buried at the back of a crowded closet, it's nearly impossible to keep track.
3. Streamlined Morning Routines
Nothing derails a family morning routine more than misplaced clothes. In order to stay on schedule, every person should be able to locate their belongings, quickly make a decision, and head out the door. But if you haven't started organizing seasonal clothes? Things become chaotic in record time. This is why it's important to sort through items and store them in a way that's efficient and accessible— before they're urgently needed.

How to Organize Seasonal Clothing
1. Set a Schedule
It's important to consistently swap out your seasonal items at least twice per year, once in the spring (in preparation for summer) and once in the fall (in preparation for winter). It's a schedule that ensures you're ready for the most drastic weather changes.
I recommend choosing a saturday or sunday when tackling this project, and dedicating the entire day well in advance, so there aren't any distractions. Mark it in your calendar ahead of time to avoid double-booking yourself!
2. Get It All Out in the Open
Before you start thinking about seasonal clothing storage solutions or ways to reconfigure your closet, you need to get a clear understanding of how many items you've accumulated. Having a clear view of all your stuff helps you remember what you own and what you truly need for the season.
So, pull everything out and make a mental (or written) inventory before spending money on plastic bins or shelving units.
3. Discard and Donate
A lot of the clothing items we hang onto are out of style, don't fit, or haven't been worn in years. And the worst part? The clutter makes us feel stressed and overwhelmed. It's better to part ways with these pieces so you can make room for new ones you'll actually wear and enjoy. Or just savor the peace of mind that comes with having a neat and spacious closet!
Be sure to discard items that are heavily worn, stained, or damaged. But donate clothing that's still in good condition (especially winter gear, since there tends to be a higher demand for warm coats, sweaters, and footwear).
4. Store Items Strategically
When taking out current seasonal clothing items, be sure to place them somewhere they'll be easy to see and grab. Visibility prompts regular use and prevents your clothing from being forgotten or neglected.
Hang your favorite hats on wall-mounted hooks inside your mudroom, for instance, or store mittens and gloves in designated bins with clear lids for easy viewing.
5. Keep Out-of-Season Items Out of Sight
One of the biggest mistakes I see families make when organizing seasonal clothes is keeping out-of-season items in the same closet or storage area as their current items. It makes the area feel more congested and jumbled, which can lead to frustration over time.

Instead, I recommend you pack up and store out-of-season items in a separate location, like a garage or crawl space. It eliminates visual clutter and allows you to get the most function out of frequently-used spaces like your entryway closet.

No More Wardrobe Worries: Hire Us to Handle Your Seasonal Clothing Switchover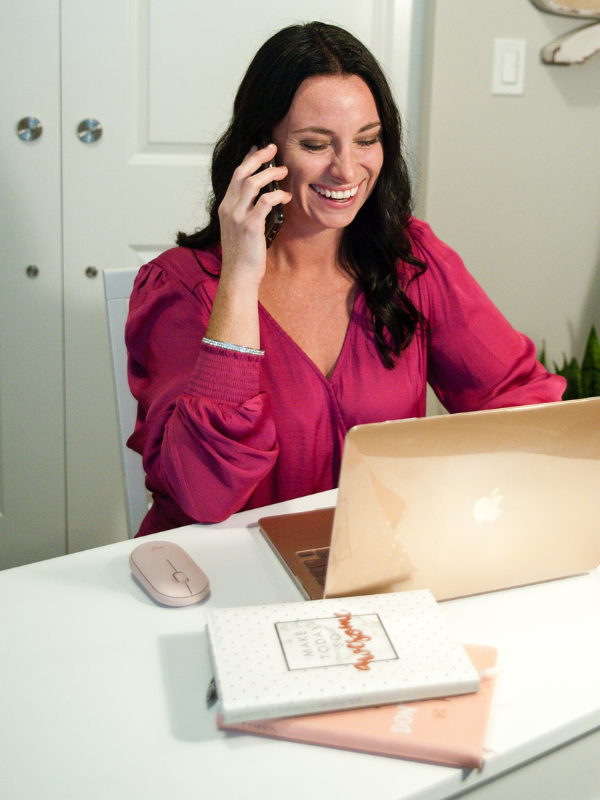 Let's be real— all the tips and tricks in the world won't make a difference if you simply don't have the time or energy to tackle another household project.
So if just reading this DIY advice (and trying to figure out when you'll actually be able to implement it) makes you feel stressed and overwhelmed, our Professional Organizers are ready to help.
We'll transform your closet, ensuring easy access to all your favorite seasonal items, so you can embrace convenience, save time, and experience the joy of a clutter-free life. Find out more about our amazing services here.

Reach Out To Us Today, We'd Love to Help!